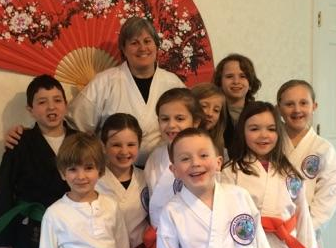 Experiences of June's students:
Sensei June has changed my daughter's life. I know that sounds dramatic, but it is the simple truth. Her ability to zero in on an individual child's needs and then to offer uplifting yet strong encouragement and instruction is a blessing to our community and certainly our family! She is an extraordinary person and teacher... and friend.
~ Susan Kaye








Sensei June has been our sonís karate teacher and mentor for seven years, and he is a now a first-degree black belt. Sensei June has not only nurtured our sonís love and mastery of karate, but she has, through her teachings, helped instill in him a caring and compassionate relationship to, not only his fellow students but the larger world. Sensei June is the best kind of teacher, one who knows how to mix hard work with play. My son loved her summer karate club where a morning of karate was followed by fun in the pool or, if it was raining, a karate movie and popcorn. We feel grateful that she is our sonís teacher and friend.
~ Mary, Redding CT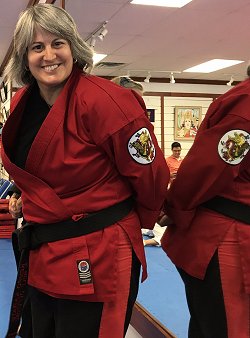 When my daughter first started Kempo Karate with Sensei June in 2006, we had no idea the range of benefits it would provide. Ten years of discipline, focus, mental toughness and persistence have all culminated in a special relationship with a wonderful Sensei and a rank of Third Degree Black Belt. The life skills and the development of personal relationships with students, with Sensei June and other Senseis are things that she will carry with her through the rest of her life.
~ Maria, Redding CT








Our son has been a student of Sensei June for several years. June doesn't simply teach her students karate, but rather teaches them how to learn. June demands hard work from her students, but does so in a warm and supportive environment. Perhaps most importantly, June teaches students to believe in themselves, discouraging negative attitudes, and reminding young people that success is found in attitude as much as action.
~ Beth, Redding CT








About Sensei June
Master "Sensei June" Fagan is a 5th Degree Black Belt in Kempo Karate.
She's studied the martial arts for over 30 years and has trained in Isshinryu, Aikido, Kung Fu, Tai-Chi and Qi Gong.
Sensei June has been teaching adults and children since 1999 and is the Karate instructor at the Redding Community Center.
June is a Co-Founder of Kindred Spirits where she provides Karate classes, private Karate sessions, private healing session as well as teaches mind, body and healing modalities.
She is also known for her Self Defense Clinics around the Tri State Area.